After 7 years of diligent stormwater infiltration, it seems like a lot of people know about the green stormwater infrastructure (GSI) practices at the Hole-in-the-Wall beach parking lot in East Lyme – in no small part due to the stormwater classroom held here every year.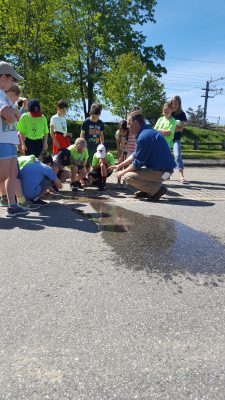 Each May, town staff with help from many partners including CT DEEP, Southern Connecticut Regional Resources Recovery Authority, Ledge Light Health District, and teachers and students from East Lyme's Middle and High schools host a stormwater classroom at the beach for all third grade students (and this year students from Salem participated too). This event has become a time-honored East Lyme tradition and a key part of their MS4 public outreach and education program.
It's worth visiting anytime if you're interested in seeing many different types of pervious surfaces and how they've fared after many years with minimal maintenance.  Bill Scheer (bscheer@eltownhall.com) – Deputy public works director or Victor Benni (vbenni@eltownhall.com) – Town engineer, would be happy to share their insights and favorite treatments from the perspective of people responsible for their original installation and ongoing maintenance.
In addition to ten different types of pervious surfaces, you can see an above ground hydrodynamic separator (very rare opportunity!), a tree box filter, a rain garden, and a series of detention/infiltration basins which are the last line of defense before stormwater and all it carries with it from a 23-acre watershed empties into Long Island Sound.
Take a look at this PowerPoint for pictures of all the green stormwater infrastructure practices at Hole-in-the-Wall Beach.
---