Project Team
Date: Summer 2018
UConn Students: Emma Saavedra, James Sheridan, Katherine Nee, and RosaLinda Sibilio
UConn CLEAR: Mike Dietz, David Dickson, Chester Arnold, and Amanda Ryan
Town of North Haven: Lynn Sadosky, Jonathan Bodwell, Alan Fredricksen, and Laura Magaraci
---
GSI Installation
Rain Garden
Project Location: Green Acres Elementary School
Project Construction: A rain garden will be implemented in the western open section of the elementary school to catch stormwater from the adjacent roofs. A second rain garden will be implemented in the southern most parking lot to collect stormwater runoff from the pavement.
---
The Runoff Reduction Report
This report includes recommendations for green stormwater infrastructure practices at 8 sites in the town of North Haven. Each site is displayed with an ArcGIS map of the recommended practice, detailed description of our recommendations, and an informational table. Each table shows an estimated drainage area, our recommended green infrastructure, annual gallons of runoff treated, nitrogen and phosphorus pollution reduction amounts, and the suggested size of each practice. These estimations were calculated based on the drainage area, annual rainfall estimates specific to Connecticut, and literature export values.
---
Photo Gallery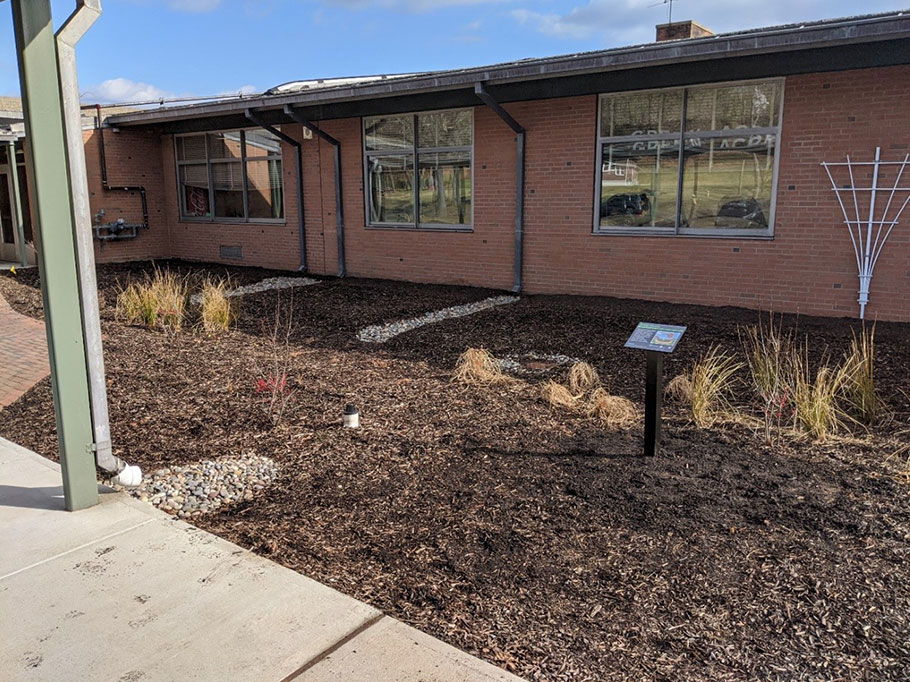 Site Design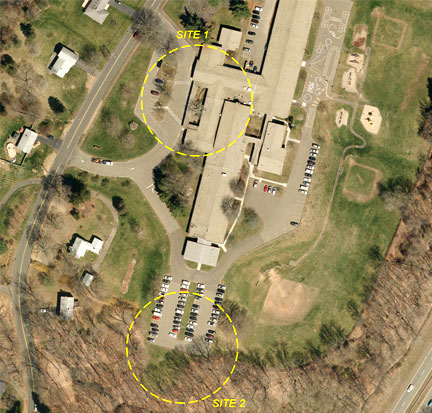 Rain Garden at Green Acres Elementary School
Project designs were created by the Rutgers University Water Resources Program.
---
GSI Summary Table
The following calculations display the potential pollutant-reducing benefits if the practices identified within the report were implemented:
| Site | Location | GSI Suggestion | Drainage Area (sq. ft.) | Annual Gallons Treated | Annual Nitrogen Reduction (lb. N/yr) | Annual Phosphorous Reduction (lb. P/yr) | Suggested Practice Size [6 in. depth] (sq. ft.) |
| --- | --- | --- | --- | --- | --- | --- | --- |
| 1 | Quinnipiac University Student Parking Lot South | Rain Garden | 12,240 | 311,329 | 2.118 | 0.150 | 2,040 |
| 2 | Aces Village School | Rain Garden 1 | 8,389 | 213,366 | 1.45 | 0.103 | 1,398 |
| | | Rain Garden 2 | 411 | 11,221 | 0.076 | 0.005 | 74 |
| | | Rain Garden 3 | 3,170 | 80,619 | 0.54 | 0.04 | 528 |
| | | Rain Garden 4 | 1,572 | 39,981 | 0.27 | 0.019 | 270 |
| | | Rain Barrel | 91 | 2,723 | 0.0157 | 0.001 | 55 |
| 3 | Gateway Community College and Cortland V.R. Creed High School | Permeable Pavement | 52,060 | 1,323,990 (if the whole area was permeable pavement) | 10.60 | 0.752 | 9,287 (3 rows of permeable pavement) |
| | | Tree Box Filters | 3,656 | 92,979 | 0.63 | 0.045 | 2 Tree Box Filters |
| | | Permeable Pavement | 37,283 | 948,186 (if whole area was permeable pavement) | 8.25 | 0.585 | 10,432 (4 rows of permeable pavement) |
| 4 | Clintonville Elementary School | Rain Garden 1 | 3,403 | 86,545 | 0.589 | 0.042 | 570 |
| | | Rain Garden 2 | 6,244 | 158,797 | 1.08 | 0.077 | 1,041 |
| | | Rain Garden 3 | 4,231 | 107,603 | 0.732 | 0.052 | 705 |
| 5 | North Haven Housing Authority / Senior Center | Rain Garden | 1,220 | 31,027 | 0.211 | 0.015 | 203 |
| | | Rain Barrel or Cistern | 400 for each downspout drainage area | 10,173 for each downspout drainage area | 0.069 | 0.005 | 67 |
| 6 | Aces Mill Road School | Rain Garden | 10,422 | 265,052 | 1.80 | 0.128 | 1,737 |
| 7 | Green Acres Elementary School | Rain Garden 1 | 1,245 | 31,662 | 0.22 | 0.15 | 208 |
| | | Rain Garden 2 | 2,682 | 68,208 | 0.46 | 0.33 | 447 |
| | | Rain Garden 3 | 6,204 | 157,780 | 1.07 | 0.76 | 1,034 |
| | | Rain Garden 4 | 28,149 | 715,888 | 4.87 | 3.45 | 4,692 |
| | | Rain Garden 5 | 12,999 | 330,590 | 2.56 | 1.59 | 2,167 |
| 8 | North Haven High School & Middle School | Rain Garden 1 | 3,964 | 100,826 | 0.686 | 0.049 | 661 |
| | | Rain Garden 2 | 9,975 | 253,718 | 1.726 | 0.122 | 1,663 |
| | | Rain Garden 3 | 915 | 23,273 | 0.158 | 0.011 | 153 |
| | | Rain Garden 4 | 7,144 | 181,710 | 1.236 | 0.088 | 1,191 |
| | | Rain Garden 5 | 26,354 | 670,325 | 4.559 | 0.323 | 4,392 |
| | | Rain Garden 6 | 2,265 | 57,611 | 0.392 | 0.028 | 378 |
| 9 | Recreational Center and Walter Gawrych Community Pool | Rain Garden 1 | 16,378 | 416,581 | 2.834 | 0.201 | 2,730 |
| | | Rain Garden 2 | 1,611 | 40,976 | 0.278 | 0.020 | 277 |
Totals
| | Total IC Disconnected (sq. ft.) | Annual Gallons Treated | Annual Nitrogen Reduction (lb. N/yr) | Annual Phosphorous Reduction (lb. P/yr) |
| --- | --- | --- | --- | --- |
| Total | 259,107 | 6,732,739 | 49.48 | 9.14 |